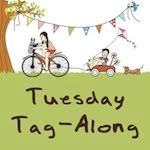 How to work it baby!
Create a new Tuesday Tag-Along blog post.
Include the Tuesday Tag-Along button by copying and pasting the code above.
Add your blog name and the URL of your TTA post to the MckLinky.
Follow Twee Poppets and the Blog Hopper of the Week (Me,Him and the Cats).
Follow the 3 blog dolls in front of you. Be sure to follow the bloggers who follow you! Its a great way to meet all kinds of bloggy friends!